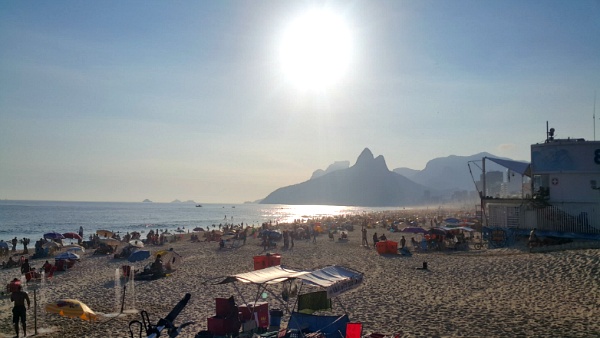 I´m presently writing from a public computer in the lobby of the hotel I am staying with my mom in Rio, Brazil. In order to truly appreciate the meaning of this sentence you have to consider the fact that, as much as I am loathe to log on my gmail in a public computer, I would also love to hear from you who seems to be studiously taking revenge for the last several months of silence I so liberally took due to masters pursuing, which, by the way, still needs another year of class taking and thesis writing to complete. It´s been barely a week since I came to visit my parents in Brazil, partly as a vacation and partly a filial duty, and this wild, uncontainable virility of a nation goes by a rhythm that is wholly opposite to my system, so that I am simultaneously bewildered and electrified. Brasil, they say, is one of the least race-consious soceities in the world, which proved not always so
, sadly, just this afternoon.
I was taking a stroll alone on the Copacabana beach when I
stumbled into a couple of young locals, seemingly in their wild teens and of Afrikan heritage, who, perhaps jocuously without much thought, or perhaps a little bit maliciously intent without much insight into their action
, who waved at me loudly and
pointed toward the sand-made likeness of a slightly over-sized phallus in-between the groins of one of them and called me `chin, ching.´ I knew that to get in fight with locals
is rarely a good idea in Brazil, especially in this part of the country, but the more quarrelsome side in me won and promptly projected both verbally and manually the universal sign-language intimating one´s intention to visit their counterpart´s maternal progenitor´s chamber during the night, for some tête-à-tête. I don't remember all their reaction but only
that they repeated what I had said with laughter because
I made haste lest they would pursue me and stab me fifty times in the chest, God forbid. Tomorrow I am planning to visit the more historical part of the city and the famous Chirst the Redeemer, so Godspeed me f
rom the barbarians of the beach, and I hope you are well, too.
S
M,
I'm back home in Sao Paulo after a week of travels in the southern parts of Brazil, and I am tired. I grew fond of Rio de Janeiro in spite of the unfortunate incident on the beach after all. Or, I liked the city as an object rather than an experience to be more accurate. The city looks pretty when seen from above on mountain Pao de Acucar, from which vantage point you get to see the beautiful costal lines swerving in and out of the bay that engulfs a phalanx of yachts on the calm sea and the summer houses without having to regard them as actual sites that demand activity on your part as a physical being. We stayed on the mountain for several hours and I lay on a recliner sipping fruit juice looking down on the bay under the sun. I felt sunk deep inside the self, reflexive but hardly reflecting, timidly enjoying the idea of the scenery. I don't think I am much qualified to benefit from Brazilian summer. Mom and I also flew to visit the Iguacu falls, which I liked even more for being so wholly impersonal. The fury and the sound impounding from all sides when one visits the place has absolutely no meaning.
S
Fat girl, terrestrial, my summer, my night,
How is it I find you in difference, see you there
In a moving contour, a change not quite completed? ...
Bent over work, anxious, content, alone,
You remain the more than natural figure. You
Become the soft-footed phantom ...
— Wallace Stevens,
Notes Toward a Supreme Fiction, Canto X